What's On 4 School Holidays in Canberra & the ACT

As parents ourselves we understand the joys (and challenges) of school holidays. For working parents, this can be a real juggling act. Fortunately, there are so many amazing options for School Holiday Care, School Holiday Classes and School Holiday Camps available. It is the perfect time for them to experience a new sport, class or activity...learn new skills in an activity that they already love, be creative and get outdoors.
For those who have time at home over the holidays, our advice is PLAN, PLAN, PLAN.

The School Holidays are a great time to try a new activity, get out and about, catch up with friends and visit somewhere new in and around Canberra.
Hapkido - Canberra
Hapkido Canberra offers self-defence martial arts classes to kids aged 5-14yrs on 2 afternoons and each Saturday morning from their purpose fitout facility in Woden, Canberra.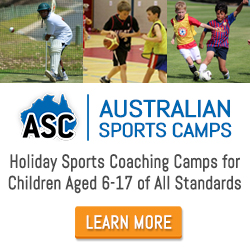 Australian Sports Camps
Join Australian Sports Camps for a three-day sports program these school holidays!
They bring the stars of your sport to you while you develop your game in your favourite sport.
Ready Steady Go Kids
Ready Steady Go Kids, Australia's largest sports program for kids under 6 are taking enrolments for term 4 right now! They are a high-energy exercise program that aims to develop and enhance your child's gross and fine motor skills through playing 10 different sports. Your child will be physically active in a fun-filled, non-competitive environment.
New to RSGK? They also offer a free trial, so visit them
online
and find a class that suits you today! Alternatively their customer service staff can assist you.
Click here for more information.
AIS Aquatic and Fitness Centre
The AIS Aquatic and Fitness Centre offers a variety of school holiday programs utilising the world-class facilities of the AIS campus.
Incorporating a wide range of activities, and focus on participation and engagement, we offer a multi-sport program, Soccer Camp, seasonal camps such as Tennis, Basketball or Athletics, as well as a Swim Intensive Program. Click here for more information.

Kids Pantry
Kids Pantry is a fun & interactive cooking school designed to give you the skills in the kitchen while getting your mitts dirty. They have so many fun activities for all ages such as School Holiday Programs, Birthday parties, After School classes, DIY Party Kits, Teenage & UNI student cooking classes and our newest addition...Kids Pantry's Pop-Up Kitchen that delivers healthy cooking classes in schools all around Canberra. Click here to find out more.

The National Arboretum Pod Playground
The National Arboretum Pod Playground certainly is a unique and entertaining playground for children of all ages featuring banksia cubby houses, acorn-shaped pods at differing heights, connected by rope tunnels and tube slides; discovery trails and climbing nets. With 94 forests spanning 250 hectares of rolling hills, there are lots of beautiful places to discover and explore at the Arboretum.
Enjoy a walk with the family, have something to eat at the cafe and browse in the gift shop. Other highlights include the giant tree ring and multimedia displays in the Village Centre and the Canberra Discovery Garden. A great day out for the whole family. Click here for more information.
KidsBiz offers a diverse range of sports clinics, dance programs and other activities specifically designed for primary school aged children. Located at Melrose High School, KidsBiz offers Canberra's most extensive facilities in a safe and convenient location. Offering activities designed for beginners right through to the experienced competitor, KidsBiz has a program to suit. Click here for more information.
Roll into AMF these holidays with an Original Fun Pass. The pass includes 2 games, shoe hire, 10 arcade credits PLUS a $7 return pass! Click here for more information.

A major feature of the Yerrabi Pond District Park is the adventure playground, which includes a Giant Tarzan swing, Double/Tandem Flying Fox, Burmese Bridge and children's play equipment. There is also a major skateboard arena for both beginners and "experts". Barbecues, picnic areas, and public toilets as well as artworks are other facilities in this park. Click here for more information.
Reel Time with Toby
Be sure to check back regularly for details on the latest new release movies, kids movies, family movies, Disney movies and more. You can also view all his reviews on our YouTube page. Coming up will be a review of Captain Underpants!
You can view the timetables for screenings at your local Event Cinemas/BCC Cinemas, Hoyts or Independent Cinemas near you.